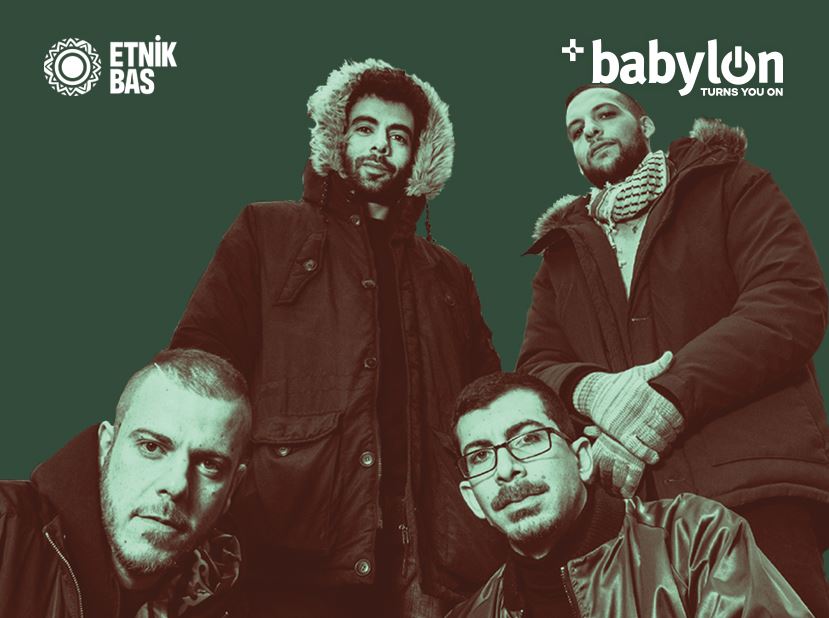 Palestinian electronic rock group 47Soul and opening act Arabic electronic music duo Zenobia will be our guest on March 2nd as a part of our "Etnik Bas" concert series.

47Soul
Middle East's rising name 47Soul brought attention to themselves with their "Shamstep" sound, which is a mix of traditional Palestinian street music with electronic beats, dub, hip-hop, funk and rock elements. Strengthening their music with analogue synthesizers and guitar melodies, 47Soul calls for equality and freedom with their Arabic and English song lyrics. The group has a wide range of fans within the Arab world and Europe and has performed at many festivals including Glastonbury, WOMAD, Boomtown Fair, Shambala, Bestival, Roskilde, Esperanzah and Roots, along with many underground venues. Their single "Intro to Shamstep" reached more than 8 million views on Youtube. The promising group released their first album "Balfron Promise" at the beginning of 2018, which was effected by similar themes of both modern-day London and the 100 year-old political history of the Middle East. During the time 47Soul lived in "Balfon Tower" throughout their 3 years in London, witnessing their neighbours getting kicked out of their apartment, the aftereffects of the demolitions in different geographies and the ties between the class and cultural clashes were all sources of inspiration for the album.
Zenobia
Zenobia combines Arabic pop melodies of the Levant area that spans from Palestine to North Africa with electronic beats. They use the traditional Syrian and Palestinian dance "dabke" and Egyptian beats in their music. Made up of Isam Elias and Nasser Halahlih, the group got their name from Zenobia, the Queen of Palmyra, who lived in third century A.D.
Mobilet for tickets!
Event Program
22:00

Doors Open

22:30

Zenobia

23:30

47Soul
Location