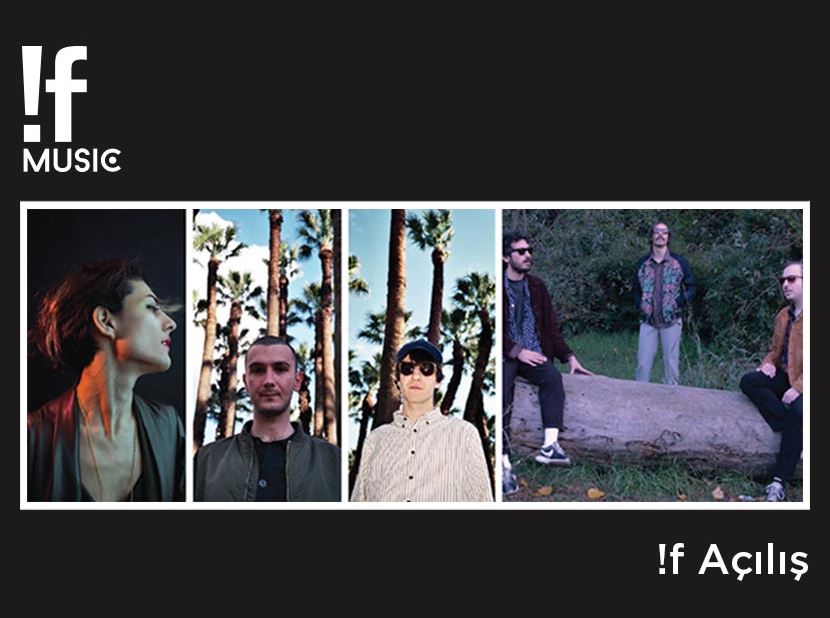 Lets remember to gaze at stars, dance to music, savour togetherness and enjoy life!

The !f 2018 opening party sets the tone for the festival, for coming together around new tunes and stories. We meet musicians inspired to go to new places. Ah! Kosmos, "Kutay Soyocak (Jakuzi) & Mertcan Mertbilek (Palmiyeler) DJ Set and Ati & Aşk Üçgeni take the night away.
Come join us!
Ah!Kosmos
Başak Günak also known as Ah! Kosmos uses experimentation with found sounds and analogue and electronic composition to experience how sound vibration and melody resonates with bodies and "other beings". Her music paints euphoric melodies over rhythms with echoing guitar and floating vocals. It combines buoyant, crunchy percussion with minor-key, determined melodic soundscapes.
Both timeless and otherworldly, Günak's work unconsciously defies being tied to a genre, tapping into something beyond an immediate surrounding or experience to communicate something more transcendental.
Kutay Soyocak (Jakuzi) & Mertcan Mertbilek (Palmiyeler) DJ Set
Kutay Soyocak from Jakuzi and Mertcan Mertbilek from Palmiyeler, step into the booth to welcome you to an wide array of sounds ranging from new wave and synth-pop to tropical music.
Ati & Aşk Üçgeni
Ati ve Aşk Üçgeni caught attentions with their very first single "Beni Yanına Al" by the end of 2017 and convinced many that they will be one of the most interesting newcomer acts of 2018! Defining their genre as "Soul Pop", right after their debut release "Gecenin Karanlığında", they will be performing a very special show for !f 2018 opening party.
Event Program
22:00

Doors Open

22:00

Berke Yavuz

23:00

Ati & Aşk Üçgeni

23:59

AH! KOSMOS

01:15

Kutay Soyocak (Jakuzi) & Mertcan Mertbilek (Palmiyeler) DJ Set
Location