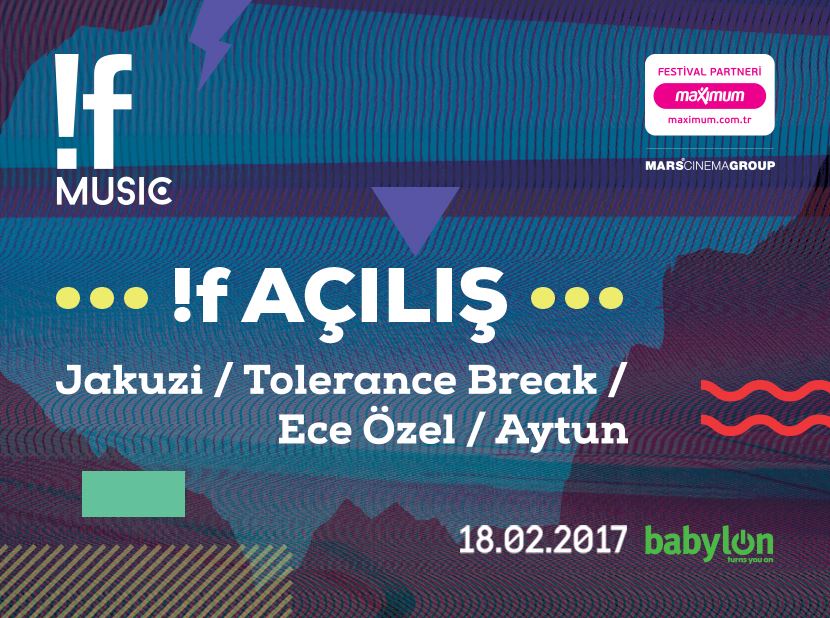 Here's to another year of !f, wrought with new stories and fresh sounds.

The opening night features Jakuzi – the duo that mixes and mashes images and sounds to fill the stage with spirited energy. The night begins with Tolerance Break – a journey through sounds and soft frequencies, and ends with Ece Özel on the decks.
Aytun Music will be greeting you on your arrival at Babylon.
Who is Jakuzi?
Jakuzi is a project of Taner Yücel and Kutay Soyocak that was founded in 2015. Their debut album ''Fantezi Müzik'' was released by Domuz Records and immediately became a hit in the independent music scene.
The band plays concerts in İstanbul and will release their album digitally and on 12' vinyl, with new recorded songs, as a deluxe edition on March 2017 from City Slang Records in Berlin.
Who is Tolerance Break?
Tolerance Break is the collaboration of Istanbul-based musicians and producers Selim Siyami and Taçkın Bilal. Tolerance Break combines electronic sounds with their sound samples and live instruments in downtempo, chillwave and electronica. Tolerance Break define their performance as a journey between sounds. Orkhan Mammad will join them on the visuals.
Who is Ece Özel?
Ece's career as a DJ started in 2009 as a battle between genres including cosmic/synth disco, slo-mo, disco edits, new wave, house and techno. As time went by, she turned towards more intimate mixes. Ece moved to Zurich where her left field music taste, a unique combination of techno, deep house, new beat/ new wave found a second home.
Who is Aytun?
Aytun started his journey as a DJ in 2010 and he started warming up activities for artists such as The Avener, Feder, Hindi Zahra, Riff Cohen and Kazamada. He also participated in many projects such as Mercedes - Benz Fashion Week, !f Istanbul.Right now focused on studio works, Aytun's album will release on February as "Stardust", which he has prepared with Sûha.www.aytunmusic.com
Event Program
22:00

Doors Open

22:00

Aytun

23:00

Tolerance Break

00:15

Jakuzi

01:30

Ece Özel
Location