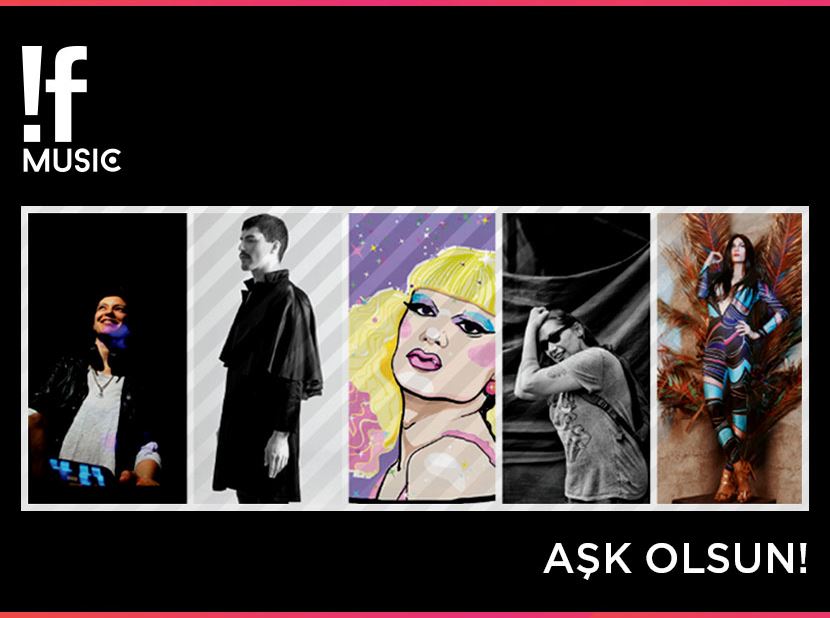 Once again, we meet to celebrate all our colours with love.

The line-up for the evening is as tantalising and vibrant as you could hope. As always, Evrim de Evrim and Mr. Sür will take their distinctive places in the DJ booth with surprise-filled sets. The night is set alight by Q-BRA, followed by the much-loved Şevval Kılıç. A special surprise will be a show featuring Cake Mosque.
Join us – or we will be one colour less.
Evrim de Evrim
One of the Istanbul dance scene's most important figures, Evrim de Evrim began DJ-ing in 2009 with her DearHead project. In addition to several nightclubs, DearHead has appeared at festivals like Rock'n Coke and One Love, as well as numerous dance parties in Berlin, Amsterdam, Rome and Zurich. Evrim de Evrim has studied production and serves as the resident DJ at projects like Wake Up Call and Suma Beach. Her speciality is keeping the dancefloor a cohesive whole.
Mr Sür
Mr Sür believes in the uniting power of music and dance. Currently, you can see him DJ-ing at many "music matters" parties happening in Istanbul and around the world. His new projects include Come To Mama, a fresh party format that supports diversity; Muz Recordings, a protest record label; and Dear Istanbul, a storyteller project about nightlife in Istanbul. As a "huwoman" who doesn't believe in genders, Mr Sür also performs as Sister Sür, Mistress Sür or Mama Sürro in the booth.
Cake Mosque
Drag queen Cake Mosque, a key nightlife notable for the past decade, performs a lip-sync show at this year's party.
Şevval Kılıç
The queer star of Istanbul nights, whose sets are as great as her exchanges with the crowd, takes the late-night stage. With her laughter, beauty and energy, Şevval Kılıç uses her magic wand to cast a spell over partygoers, ensuring an unforgettable night.
Q-BRA
Q-BRA's (a.k.a Kübra Uzun) passion for music began at a young age with the piano and continued in high school with singing, voiceovers and acting. In the 2000s, she studied musical theatre and performing-arts management and became a permanent member of the Garsongs Show Group, performing in several musicals. She has been a backup singer for Nilüfer and Candan Erçetin. Q-BRA, whose set opens the night, will perform disco, funk and dance music from the 1980s, 1990s and today.
Event Program
22:00

Doors Open

22:00

Q-BRA

23:00

Sevval Kılıc

23:59

Cake Mosque LipSync Şov

00:30

Mr. Sür

02:00

Evrim de Evrim 
Location