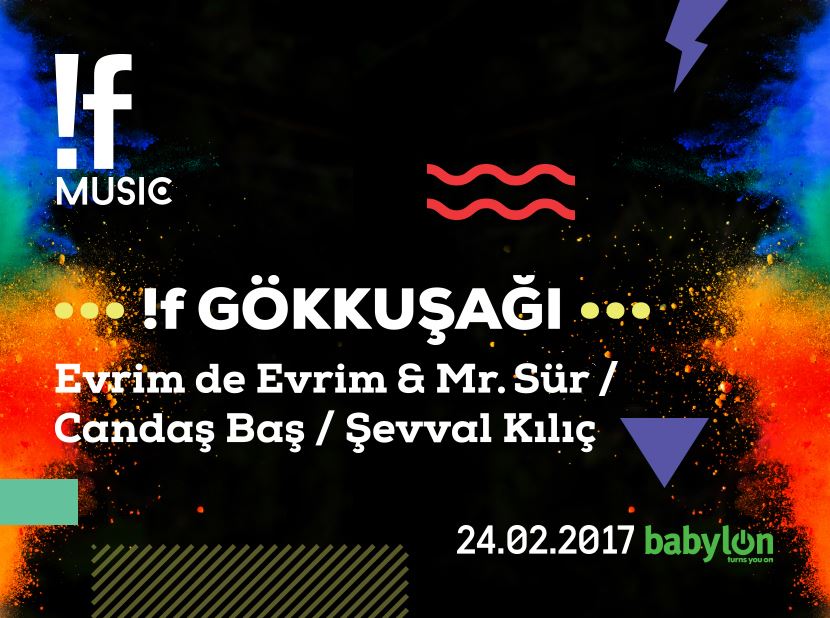 Each and every color on the rainbow heals. So we meet under the rainbow once again. We wish to love, be inspired by each other, find connection and enjoy one another.

Evrim de Evrim & Mr. Sür
The creative names behind Suma Beach and Wake Up Call, Evrim de Evrim and Mr. Sür, join forces for all the colours of the rainbow. They invite us all to dance with a set that combines "all things danceable, from old school techno to 90s Turkish pop, to chocolate funk and vocal house".
Candas Baş
Choreographer, dancer, yoga teacher, singer.... the multi-talented Candaş has been getting people moving on the dance floor for nine years. A true tribal leader, Candaş will carry us !f-lovers over the seven colours of the rainbow and to the clouds.
Şevval Kılıç
A prominent Pride Week activist, a center of attraction during rainbow parties, the spirited Şevval Kılıç opens !f Rainbow with a wonderful playlist to warm us up for what is sure to be a long night.
Event Program
22:00

Doors Open

00:00

Şevval Kılıç

00:00

Evrim de Evrim & Mr. Sür

00:00

Candas Baş
Location