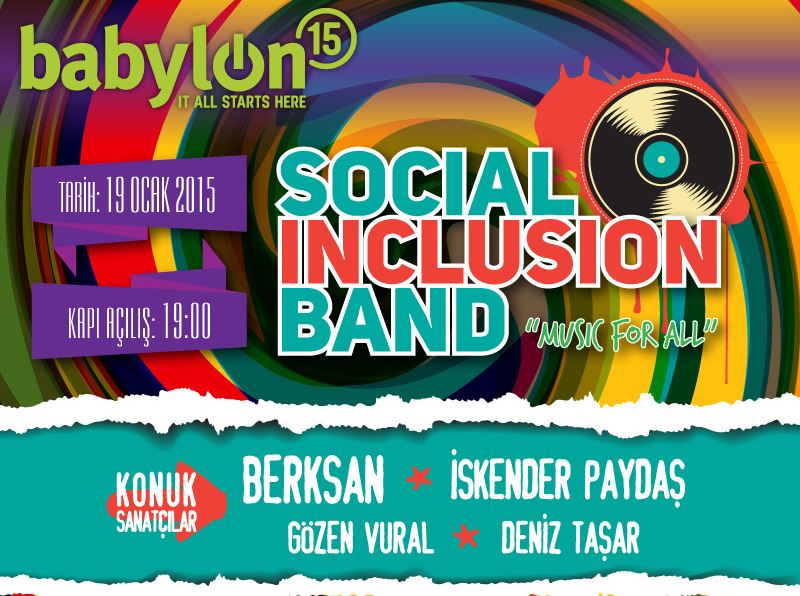 Social Inclusion Band 2015 sezonunun ilk konserinde Babylon'u, sürpriz konuklarla sallamaya hazırlanıyor.

"Music For All" sloganıyla yola çıkan Social Inclusion Band engelli ve dezavantajlı gençlere yeni bir yolcuğun kapılarını açan Düşler Akademisi, Social Inclusion Band ile yetenekli gençleri, gönüllü müzisyenlerle bir araya getirmeye devam ediyor.
2010 yılından bu yana Akbank Caz Festivali, Efes One Love, İstanbul Caz Festivali, Rock'n Coke, Fête de la Musique à Genève (Cenevre Müzik Festivali), Masterpeace, The Ella International Social Inclusion Music and Art Festival gibi pek çok önemli festivalde ve Babylon, Hard Rock Cafe, Roxy, Ghetto, Otto, Garaj İstanbul, Bronx, gibi birçok prestijli sahnede yer alan grup Cahit Berkay, Bengü, Şebnem Ferah, Hayko Cepkin, Baba Zula, Luxus, Kolektif İstanbul, Selen Servi, Güntaç Özdemir, Ali Perret, Alp Ersönmez, Arto Tunç Boyacıyan, Aydın Esen, Ayhan Sicimoğlu, Bora Uzer, Burhan Öcal, Can Kozlu, Hüsnü Şenlendirici, lhan Erşahin, İmer Demirer, Jozi Levi, Kerem Görsev, Korhan Futacı ve Kara Orkestra, Neşet Ruacan, Oğuz Büyükberber, Okay Temiz, Ozan Musluoğlu, Önder Foçan, Şenol Küçükyıldırım, Tobumusikizm, Volkan Hürsever, Volkan Öktem gibi birçok müzisyen ve grup ile aynı sahneyi paylaştı.
Konuklar:
Berksan
İskender Paydaş
Gözen Vural
Deniz Taşar
Event Program
| | |
| --- | --- |
| 19:00 | Doors Open |
| 20:00 | Social Inclusion Band |
Location