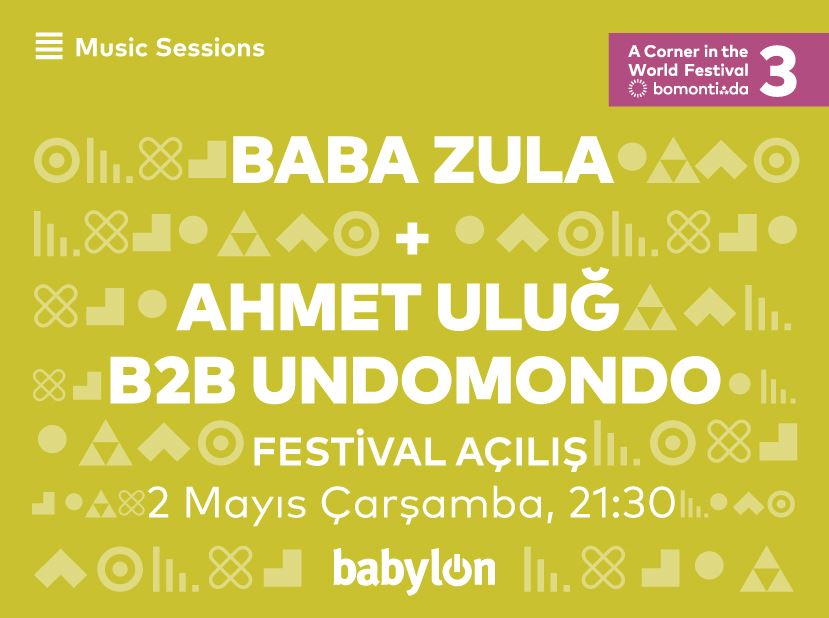 Festival Opening Party

A Corner in the World Festival 3 will kick off with Turkish psychedelic band Baba Zula. The concert will be hosted by Babylon and Ahmet Uluğ and Undomondo will share the DJ booth for the second part of the evening. They promise to take us on an intergeographical and interspecies journey and teleport us to various corners of the world.
This event is organised in cooperation with Babylon.
BABA ZULA
The unrivalled masters of 21st century Turkish Psychedelic Music, BaBa ZuLa go to great lengths to provide their followers with a unique experience both on their live shows and their recordings. By mixing oriental instruments such as the electric saz, darbuka, and spoons with electronics and modern sounds, BaBa ZuLa creates a sound all their own called Istanbul psychedelic. BaBa ZuLa's music is oriental Istanbul Rock'n Roll that rolls in a futuristic way inspired by the late 60's. Their shamanic ritual like performances are a mixture of disciplines of art, often featuring dancers, elaborate costumes, poetry, theatre and live drawing, delivering viewers a tantalizing audio-visual feast. BaBa ZuLa share their legacy with us through their music, a music born out of Istanbul. BaBa ZuLa features founding members Levent Akman (spoons, percussions, machines, toys,drum,gong), Murat Ertel (saz and bağlama,guitar,percussion,vocals,oscillators, theremin), as well as Ümit Adakale on darbuka & percussion and Periklis Tsoukalas on electric oud,vocals,synth.
AHMET ULUĞ
Ahmet Uluğ has been working in the music industry since 1989, and he is the cofounder of Pozitif Inc. He plays and listens to a wide spectrum of genres from jazz to electronic. He hosted his own show Öbür Dünya (Other World) on Açık Radyo for many years and DJed at Babylon. Ahmet is a curious person with an ever-growing passion for music.
UNDOMONDO
Undomondo is a music blog & radio show from Istanbul since 2005 that supports and promotes good music regardless of genres, periods and geography. The music diet covers quite a lot of dishes from electronic music to jazz, folk, world music and beyond. While DJing it's obviously more dance oriented, spanning soul, exotica, afro & latin, oldskool house and rarities.
Event Program
| | |
| --- | --- |
| 20:30 | Doors Open |
| 21:30 | BaBa Zula |
Location