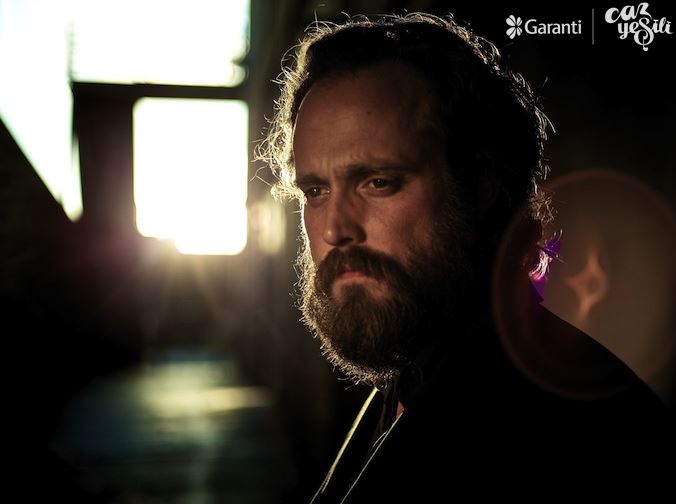 Iron & Wine will be at Babylon Bomonti for the first time for Garanti Caz Yeşili concerts, on November 4 with their peaceful melodies.

American musician Samuel "Sam" Beam invites his audience to a melancholic world with his songs, the notes of which are infused with his calmness. Born and raised in South Carolina, Samuel Beam's career, which started as an art and cinema academician, went into another direction after he gave the demo of his self-written songs to a friend. He managed to draw Sub Pop's attention, and then Sam made his debut with his first album "The Creek Drank the Cradle", which was recorded in his own studio in 2002 under Iron & Wine name. Having released many successful albums with his calm and sincere voice accompanied by acoustic guitar, banjo, and fretless guitar, Sam made recent a mark with his "Sing Into My Mouth" album of cover songs of musicians like Talking Heads, Ronnie Lane, Bonnie Raitt and John Cale, which he recorded with Band of Horses vocalist Ben Bridwell.
Keşfedin:
Cihan Murtezaoğlu
Tür: Singer-songwriter
Biraz andırıyor: Erkan Oğur, Fikret Kızılok
Mutlaka Dinleyin: Sarı Söz, Uçurtma, Deli
"Künt" ve "Sen Yağmur Dök" adlı projelerden tanıyabileceğiniz Cihan Mürtezaoğlu, Mabel Matiz, Ceyl'an Ertem gibi isimlerle de çalışmalarını sürdürüyor. Cihan Mürtezaoğlu şimdi de solo projesiyle müzikseverlerle buluşuyor.
www.soundcloud.com/cihanmurtezaoglu
Event Program
21:00

Doors Open

21:00

Cihan Mürtezaoğlu

22:00

Iron & Wine
Location