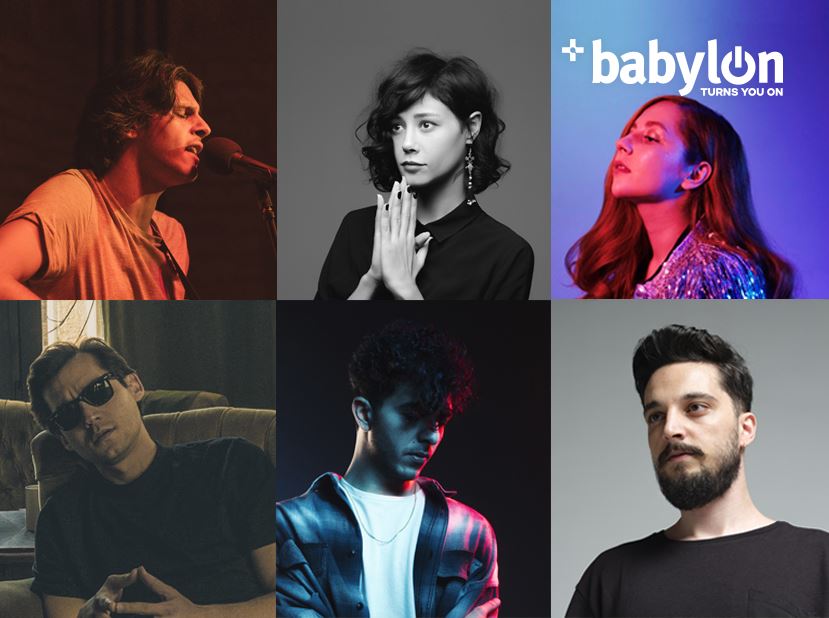 Bringing together the local music scene's new and young talent in collaboration with New East Waves, the first of the "Yeni Yerli (New Local)" concert series will host Birkan Nasuhoglu, CanOzan, Fikri Karayel & Ufuk Kevser, Irem Candar and Nova Norda the night of November 21st!

Birkan Nasuhoglu
Continuing his music career with solo projects, Birkan Nasuhoglu is the creator of well-liked Yedinci Ev songs "Sevsene Beni", "Kalbim Seni Ariyor", "Anlat Ona" and "Sarhosum". The two singles he released last year with Elcin Orcun "Bi Fazla" and "Varsa Yoksa" made him one of the most-listened to artists on digital platforms. Birkan is currently working on new music to share with his fans.
CanOzan
Starting his music career with a classic guitar at the age of 13, CanOzan began to play day and night to avoid taking his high school entrance exams. After the release of "Delirmiyorsan Tebrikler" and "Bisey Var" in 2015, he released "Derlemeler" in 2017. His projects with Deniz Tekin, Sedef Sebuktekin, Damla Eker, Dolu Kadehi Ters Tut, Umut Doven and Nova Norda enabled him to reach a wider audience. From Turkish folk melodies to European electronic timbres, CanOzan has refused to stick to one music genre and has released over 40 songs to this day. One of his future projects include an acoustic album.
Fikri Karayel
Cypriot songwriter and composer Fikri Karayel began to write music when he joined a music group while he was studying biophysics in university. During that time, he voiced Haluk Levent's "Sehit" song, causing his name to be quickly heard in Turkey. His song "Hayal Edemezsin" was used in two films "Seni Seviyorum Adamım" in 2014 and "Olumlu Dunya" in 2018. Fikri released his first album "Zor Zamanlar" in 2015. He quickly widened his fanbase with his popular songs "Trenler", "Hayal Edemezsin" and "Morg". He has been focusing on new compositions and stage performances for the past three years, releasing his latest deep-house based single "Yol" in 2018.
Irem Candar
Having learned to play the piano at a very young age, Irem Candar began her music education with classic music, later getting into poetry and drawing. After combining these three disciplines that enabled her to create her unique artistic mindset, she sang songs that allowed her to use her voice's different tones, ranging from Dolores O'Riordan to Muse. Irem made her name heard by voicing "Dus" in Teoman's album "Soz Muzik Teoman" in 2008. Her popularity further increased after their duet "Bana Oyle Bakma" on Teoman's 2011 album "Ask ve Gurur". In addition to her projects with Teoman and Iskendar Paydas, her songs were used in many TV shows and films. She released her first album "Erik Agaci" in 2012. During her break from music from 2015-2018, her interest in shamanic and therapy music affected her, leading her to work on an eclectic and alternative album. On her latest album "Gul Ile Akide" released in 2018, Irem aims to instill her belief in music's healing power to her listeners.
Nova Norda
Musician, advertiser and media planner Nova Norda, left her corporate career behind and entered the music world, releasing her first single "Ciktim Bi Yola" in February 2018. With her electro-pop and hip-hop style songs, colorful world and the strong communication she forms her fans, Nova Norda quickly made her voice heard. She released "Dinozorlar", "Bosver!" and a rap cover of Ajda Pekkan's song "Palavra" each one month apart. Nova's latest single "Varim" enabled her to widen her audience, meanwhile her music videos cause her name to be mentioned often.
Ufuk Kevser
Creating his first hip-hop compositions after coming across music programs during his computer programming class in high school, Ufuk Kevser released his first rap album in 2010. After stepping into the electronic music world and completing his sound engineering education, he took the roles of sound designer, producer, mixer and mastering engineer on the albums and singles he worked on with many DJ's and artists. He made remixes for songs by Pamela, Yuzyuzeyken Konusurken, Gokhan Turkmen, Fikri Karayel and Mehmet Erdem.
Mobilet for tickets!
Event Program
20:30

Doors Open

21:00

İrem Candar

21:45

Birkan Nasuhoğlu

22:30

Can Ozan

23:15

Nova Norda

00:00

Fikri Karayel & Ufuk Kevser
Location